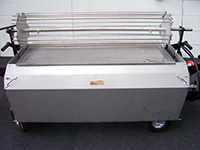 When you take a look at our Platinum hog roast machine for sale, don't forget to consider our brilliant accessory kits too! The chicken spit allows for a delicious alternative to roast hog – roast chicken. It has a huge capacity, able to cook up to 36 chickens in one go and it's really easy to use. It provides instant drama to your event catering set-up. The 5 arm rotisserie has real theatrical appeal.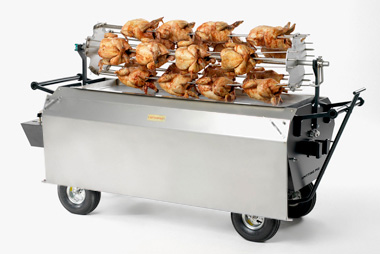 The chicken spit kit utilises our original spit pole and 240v motor to slow cook chicken, turkey, beef joints and pork legs in this unique and traditional manner. When it comes to carving up, it gets even more exciting. Raise up the whole rotisserie with the support bars and you can cut the meat in the open air, letting the wonderful scents fill the room. Each arm can be removed individually, allowing for efficient carving without ruining the aesthetics of the kit. The carving tray will catch the meat and, with the thermostat burners beneath, keep the meat hot too.
Want to add roast chicken to the menu but still fancy a hog roast? Use our hog roast kit which is great for combining meats and cooking at the same time.