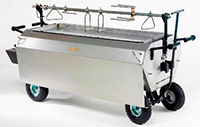 There's something special about a succulent pork spit roast, and the only way to achieve this unique taste is with a traditional spit roast pole. Our spit roast kit can be used alongside our Platinum hog roast machine for sale. It utilises a hefty spit pole and 240v motor to rotate a full hog or whole lamb. It can take a full carcass weighing up to 80kg – that's a lot of meat!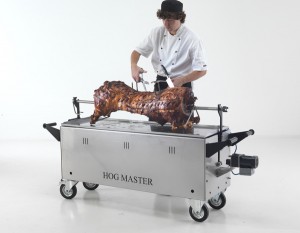 Both chef and guests can monitor the cooking process through the Platinum's viewing panel. When the cooking is complete, get ready for the real drama. It's now time to serve up your hog in the open air, letting the delicious smells fill your venue. The spit can be lifted using the two support bars and a carving tray can be placed underneath to catch your cuttings. This carving tray is heated by the two full length burners to act as a hot plate, keeping all the trimmings warm and juicy.
Add excitement to your catering company with this purchase! Don't forget to take a look at our other hog roasting accessories too, to really make the most out of our hog roast machines.
Need advice on our products? Just give us a call to discuss.